Olivetti D33 1991 386 Retro PC Laptop Tour and Repair
Posted On April 5, 2021
I fixed up a 30 year old Olivetti D33 Laptop AKA the Triumph Adler Walkstation.
The best bits are all on video, or scroll down for a gallery and links to other resources for this (barely) laptop.
The most important bit was the pinout for the PSU DB-9 connector.
Pin 1 should be at 21V and pins 2, 4, 9 should be grounded.
I'll check back with scans of the manuals and disk images when I get the chance.
Update: Customer diagnostics disk images below:
https://bm-cust-rs.s3.amazonaws.com/bmorton/Olivetti_D33_Diagnostic_Disks.zip
Check out the gallery below for a closer look.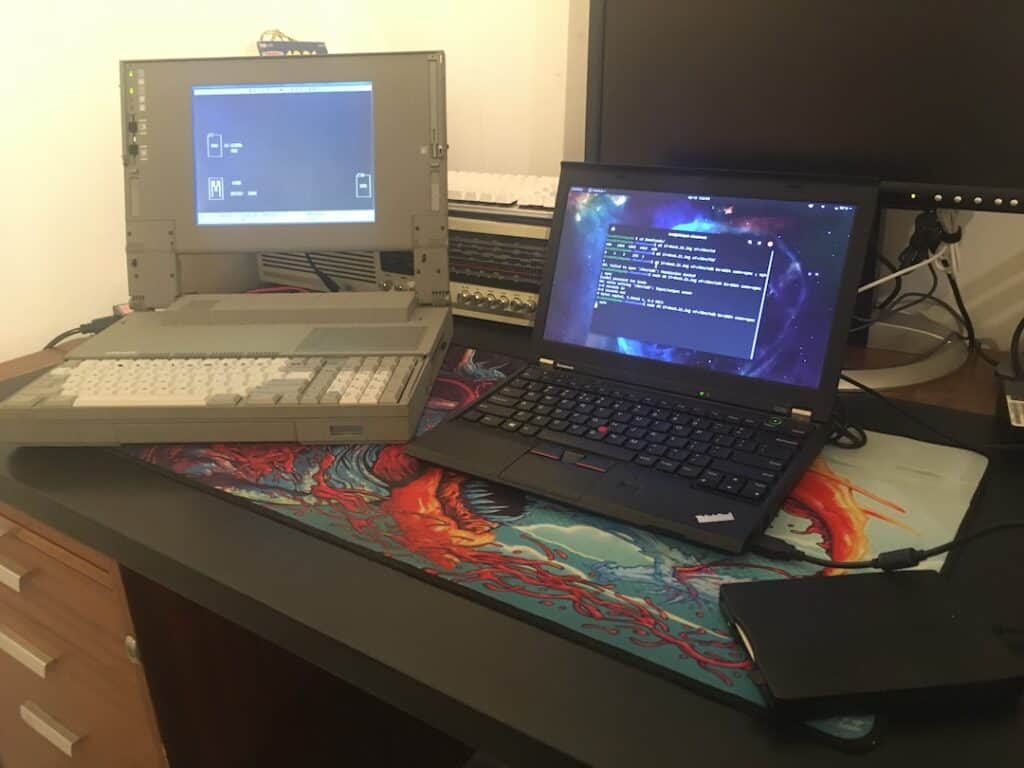 Below are the links I used when researching this bit of hardware:
https://olivrea.de/olivetti-d33/
https://sammlungen.uni-goettingen.de/objekt/record_kuniweb_950604/1/-/#collapse-3
http://www.mauseum.net/Olivetti/
https://forum.classic-computing.de/forum/index.php?thread/8419-triumph-adler-walkstation-386-33-386sx-olivetti-d33-s20/
https://groups.google.com/g/comp.sys.acorn.hardware/c/rN6-RWABsao/m/AMwP0FBDmmgJ
http://www.vcfed.org/forum/archive/index.php/t-46921.html
http://computermuseum.wiwi.hu-berlin.de/cat.php?id=lapt35&type=Laptops
https://translate.google.com/translate?hl=en&sl=de&u=https://forum.classic-computing.de/forum/index.php%3Fthread/8419-triumph-adler-walkstation-386-33-386sx-olivetti-d33-s20/&prev=search&pto=aue
https://5fc6jsg3jhlvg67hpy2kg72jki-jj2cvlaia66be-computinghistory.translate.goog/Computers/A4.html
http://www.cjemicros.co.uk/micros/individual/newprodpages/prodinfo.php?prodcode=ACO-A4PSU
https://ffhgez2lya4jfcjf6c447mxsam-jj2cvlaia66be-chiark-greenend-org-uk.translate.goog/~theom/riscos/a4/faq.html